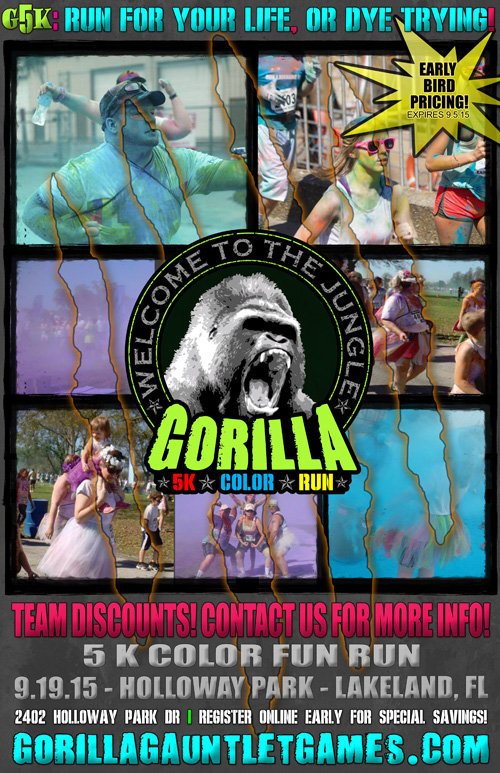 Information on the next Gorilla Gauntlet Games will be posted soon!
Rain Or Shine the Gauntlet Goes On!

Click below for registration and event information!





---

Top 3 Finishers:



Jodi Hebert

|

13:39
Robert Bowan

|

13:50
Marc Paul

|

15:19



---






---

Top Male Silverback:



Drew Kratky 17:33



---

Top Female Silverback:



Rebecca Wroten 27:38



---






---

Top Male:



Larry Guarcello 8:05



---

Top Female:



Meghann Nelson 9:05



---




This multi station urban obstacle course is not for the faint of heart! Just as you couldn't survive being dropped in the jungle for days,without being prepared , neither can you expect to complete this course without being in shape. Each station tests you physically and mentally to determine if you are one step closer to escaping the jungle, or that much closer to being devoured by it.

Scale the Wall


Climb up and over 8 feet of this formidable obstacle

Tire Flip


Hundreds of pounds of road hardened rubber stand in your way. Flip each one down and back.

Farmer's Walk


Blocks of concentrated agony. Carry one in each hand a set distance.

Sledge Station


Swing a sledge hammer high over head a set number of times striking a target.

Confined Space Tunnels


Low crawl through a confined obstacle made of corrugated tubes.

Parrallel Bars


Test your endurance and determination crossing over these bars.

Not So Small Walls


Hop up and over this series of 5 foot walls.

Monkey Bars


Swing from bar to bar and let your inner primate free on this challenging event.

Tire Grid


Cross through this grid of tires. Completion counts, no skipping!

Rope Pulls


You + Rope + Heavy Object = One tough test of your grip and will.

Simian Sled


Weighted sled pushes over a set distance.

Primate Plyometrics


A series of jumps up and over increasing heights of jump boxes.

Rope Swing


A new twist! Swing from rope to rope in this challenging jungle incarnation of the monkey bars.

Sand Bags


Hoist a heavy bag of sand and sprint while down and back without setting the object down.

100 Yard Dash


And all out Sprint to Survive!

Plus Lots More!


The other obstacles are just as fun and ferocious to give you one heck of an incredible obstacle experience!

*All Obstacles Subject to Change Depending on Course Layout and Conditions on the Day of the Event*

Bring out your inner primate!  Feed your primal instincts!  It's survival of the fittest.  Can you survive?